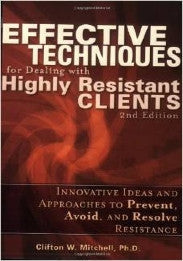 Effective Techniques for Dealing with Highly Resistant Clients, 2nd Edition
A practically written guide that presents tangible, stress-reducing techniques for dealing with your most difficult clients. Theories of resistance are examined and a model presented that empowers mental health professionals to resolve roadblocks in therapy. For the first time, hundreds of ideas from a broad array of theories are presented together in one complete package. When consistently used together, these ideas and techniques allow the therapist to create a therapeutic environment where resistance is successfully managed.
A valuable resource that both the working professional and student will turn to when seeking realistic, pragmatic ideas and strategies for overcoming stagnation and creating therapeutic movement.
The book is indexed and designed for quick access to ideas and approaches.