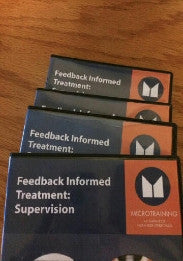 Feedback Informed Treatment Supervision, Individual Version
Scott D. Miller, Julie Tilsen, and Susanne Bargmann developed this video to describe and demonstrate how to integrate the principles and practices of feedback informed treatment (FIT) into clinical supervision. Dr.'s Miller and Tilsen provide an overview of the FIT supervision model and then demonstrate how to use it with individuals and groups.
A special section shows how data generated by the routine administration of the outcome rating scale (ORS) and session rating scale (SRS) can be used by managers and supervisors to: (a) determine strengths and weakness in service delivery; and (b) develop a plan for improving the quality and effectiveness.
Please note: Two DVDs available. Over two hours of content In order to make information about FIT available to practitioners, the producer of this DVD has agreed to a special individual version price (see below).
Would you rather STREAM this video than purchase the DVD set?  Click here.