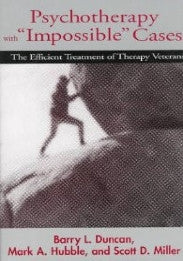 Psychotherapy With "Impossible" Cases: The Efficient Treatment of Therapy Veterans
How to deal with cases considered 'impossible' or those clients who have defeated clinicians and have become the "veterans" of the system? The book describes the therapy process with a number of these kind of clients. By using a flexible approach that emphasizes relationship, hope, and a plan for the future, the authors turn these cases around, while setting the clients on a path of independence and health.
"This is a truly significant work," says author and Professor Kenneth Gergen, Ph.D.