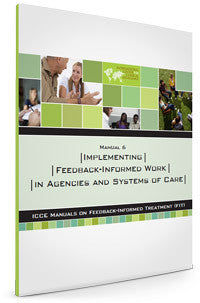 Manual 6 – Implementing Feedback-Informed Work in Agencies and Systems of Care
Manual 6 addresses key knowledge and steps for implementing and developing a structure for sustaining feedback-informed work in agencies and larger systems of care.
This manual offers detailed guidelines from planning to training to sustainability in organizations. Specific content areas of the manual include:

1. Using the GAP Assessment to identify target areas for organization change (i.e., identification of clinical, policy, administrative, funding, regulatory, supervisory, consumer challenges)
2. How to conduct basic staff training
3. Chief management, leadership, and supervision challenges and obligations
4. Creating and utilizing a transition oversight group to facilitate successful implementation
5. Conducting a pilot project
6. Sustainability strategies (e.g., development of a training program, policy, etc.)
Upon completion of the manual, readers will be able to:
• Understand how to perform a GAP Assessment and assess organizational readiness for a transition to outcome-informed work
• Convey strategies for administration, management, leadership, and supervision
• Prepare a plan and implement a staff training program
• Pilot and implement an outcome management system
• Describe strategies for sustaining and improving the outcome management system.
Please note: The manuals are e-books licensed for a single-user.
If you or your agency would like to provide access to all staff, please email info@scottdmiller.com for a quote and significant discount off the sale price.
Continuing Education Credits Available  You can now receive 2 credits of continuing education from CEUnits.com for reading this manual:
Purchase and read the manual;
Click here

 

to take the quiz and receive your CE's.