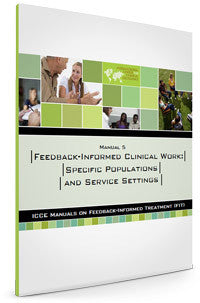 Manual 5 – Feedback-Informed Clinical Work: Specific Populations and Service Settings
Manual 5 addresses the advanced applications of clinical work with diverse populations, treatment modalities, and service settings.
In addition, Manual 5 offers steps for achieving clinical excellence through deliberate practice. Specific content areas include:
1. Using routine outcome measurement in group therapy
2. Applying FIT with special populations (i.e., children, families, couples, SPMI, DD, mandated clients, etc.)
3. Applying FIT in specific service settings (i.e., inpatient, outpatient, residential, homebased, etc.)
4. Steps to achieving clinical excellence.
Upon completion of the manual, readers will be able to:
• Use of routine outcome measurement in group settings
• Apply FIT with a number of special populations
• Applying FIT in specific service settings
• Apply skills of deliberate practice to continuously improve clinical skills and effectiveness.
Please note: The manuals are e-books licensed for a single-user.
If you or your agency would like to provide access to all staff, please email info@scottdmiller.com for a quote and significant discount off the sale price.
Continuing Education Credits Available  You can now receive 2 credits of continuing education from CEUnits.com for reading this manual:
Purchase and read the manual;
Click here

 

to take the quiz and receive your CE's.